If you are an SEO Expert, you should know about Anchor Texts and its importance in Search Engine Optimization. Despite of it being a highly used term in SEO, some of you might still be learning what it is. In this Blog you'll learn about Anchor Texts and how to use them effectively for your website's SEO.
What is Anchor Text?
Generally a Blue Underlined Text in a hyperlink is Anchor Text. In short these are the texts that can be clicked in a hyperlink. For an example, in the sentence "e-Definers Technology is the Best SEO Company in Delhi".
Why is it Important?
Google and other Search Engines use these link texts to get an idea about the web-page where the reader is being referred. The more relevant your anchor text is to your referring content, the greater are your chances of getting higher ranks.
What are its Various Types?
Before using these texts for SEO purpose, you should have a basic understanding of all its different types. It will help you in using these texts at their most suitable position.
Generic Anchor Text- A generic text is something which is very general or common. For example, "Click Here", "Read More", "View More", etc are Generic Anchors.
Long-Tail- Theseare a combination of three or four keyword phrases which are very specific to whatever product you are selling. Example- "SEO Services in Delhi NCR".
Branded Text- As the name suggests itself, Link Texts with the name of the brand are termed as Branded Anchor Texts. "e-Definers Technology" is an example of it.
Naked Links- These texts use the URL of a web-page as the Link Text. www.edtech.in is its example. 
Image Anchors- Links in which Images are used as the Anchor text are known as Image Anchors. Google uses the Alt Tag of an image as the Anchor Text.
Brand + Keywords- These are the ones which consist of a combination of the Brand Name and keyword relevant to the linked page. For instance, "e-Definers Technology's On-Page SEO Services".
Partial Match- Link in which some of the texts are relevant to the content of the webpage is known as Partial Match. Let's say a page is about Off-Page SEO and the text being used is "Learn More about Off-Page SEO Service", then it is a Partial-Match.
Exact Match- These types of Anchor Texts are the exact match of your targeted keyword for which you want your website to rank. It is the most important link text among all. These texts can also help you improve your website's ranking. For an example, if you want your website to rank for SEO Company in Delhi, you should use "SEO Company in Delhi" as the Exact Match while linking to the relevant page.
How to Distribute These Anchor Texts?
Using these texts in a proper ratio can help your website's SEO in longer run. Although there is no finite ratio of distribution, but with their experience our SEO Experts have finalised a more or less appropriate ratio in which you should distribute.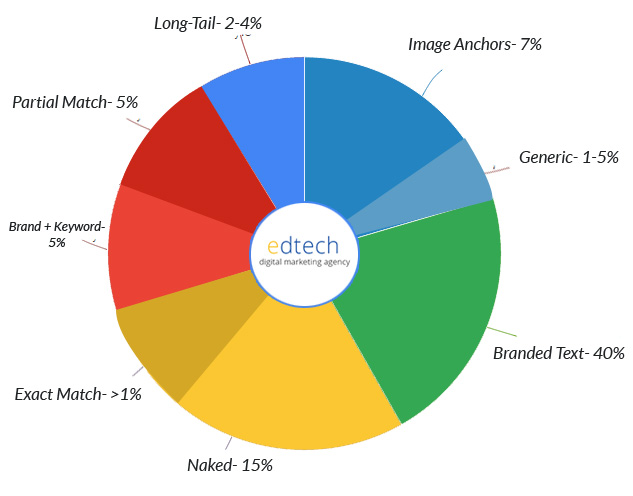 Generic- 1-5%
Long-Tail- 2-4%
Branded Text- 40%
Naked- 15%
Image Anchors- 7%
Brand + Keyword- 5%
Partial Match- 5%
Exact Match- >1%
How to Optimize these Anchor Texts?
Optimizing them according to Search Engine rules can be a confusing task. Some SEO professionals usually don't even use them properly. This mistake might result in Google Penalising your website. We advise you to follow these tips while optimizing the Anchor text on your website
Use Relevant Text– If you want to improve your website's ranking on Search Engines, use such words which are relevant to the linked web-page. It is often seen that pages with relevant words in the link rank higher.
Proper Distribution– Rather than filing your content with only one type, you should use different anchor texts in proper ratio. Using only one kind will result in spam and Google might penalise your website.
Avoid over Interlinking- While interlinking is highly necessary, you should avoid too many of it. Filling more links is also counted as Spam. Beside your content will not be readable for your users.
Conclusion
Since Google rolled out its Penguin Update, it wants you to be careful while choosing Anchor Texts for your links. Google wants you to build your links organically using appropriate and relevant texts with better distribution. I am sure that you if follow all the tips and information that have been provided above, your website will get high rankings like never before and it will be almost impossible for Google to penalise your website.